Obituary for Réginald Bélair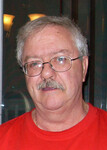 Réginald est décédé paisiblement à l'Hôpital Sensenbrenner de Kapuskasing d'une insuffisance rénale, en plus d'un cancer. Il laisse dans le deuil sa femme Jo-Anne et ses deux filles, Annie (Martin Messier) et Julie (Michel Lacroix), ainsi que ses frères Jean-Marc et Viateur et ses sœurs Bibiane, Stella et Lise. Il a grandi à Opasatika; ses parents Adrien et Florence (née Labreque), ses frères Patrice, Joël et Florent, ainsi que ses sœurs Adrienne et Denise sont décédés avant lui.
Il profitait de sa retraite depuis près de 16 ans, après avoir représenté la circonscription Cochrane-Supérieur (de 1988 à 1997) puis Timmins-James Bay (de 1997 à 2004) comme député à la Chambre des communes (Ottawa). Avant d'être élu au Parlement, il a travaillé comme adjoint au député précédent, et comme gestionnaire des programmes artistiques du Centre régional de Loisirs culturels à Kapuskasing.
Il aimait beaucoup relaxer au chalet au lac Rémi, aller à la pêche, jouer aux cartes et au crible, voyager, jouer aux jeux de loterie instantanée dit « gratteux », et écouter les matchs de hockey des Canadiens de Montréal. Quand il était plus jeune, il a joué souvent au hockey et au billard, et il était un grand amateur des chansonniers québécois. De plus, il a publié deux livres de poésie dont il était très fier.
Il adorait le Nord de l'Ontario et était très fier d'être Franco-Ontarien.
La célébration eucharistique aura lieu le samedi 7 mars à 10h30 en l'église Immaculée-Conception avec le Père Sébastien Groleau comme célébrant. L'inhumation printanière aura lieu au cimetière d'Opasatika. Nous vous invitons à faire un don à la mémoire de Réginald à l'un des trois organismes suivants : l'Association pour l'intégration communautaire du nord-est, le Centre de ressources pour la vie autonome des personnes handicapées, ou Diabète Canada.


Réginald passed away peacefully at Sensenbrenner Hospital, Kapuskasing, as a result of renal failure, in addition to cancer. He leaves in mourning his wife Jo-Anne and his two daughters, Annie (Martin Messier) and Julie (Michel Lacroix); his brothers Jean-Marc and Viateur; as well as his sisters Bibiane, Stella and Lise. Réginald grew up in Opasatika. His parents Adrien and Florence (née Labreque), his brothers Patrice, Joël and Florent, as well as his sisters Adrienne and Denise are all predeceased.
Réginald enjoyed retirement for nearly 16 years, having represented the riding of Cochrane-Superior (1988 - 1997), then Timmins-James Bay (1997 - 2004) as member of the House of Commons (Ottawa). Before being elected to Parliament, he worked as assistant to the previous member, and as director of artistic programs at the Centre régional de Loisirs culturels in Kapuskasing.
Réginald enjoyed relaxing at his chalet at Remi Lake, fishing, playing cards and cribbage, travelling, playing instant lottery games known as scratch tickets, and listening to the Montreal Canadiens hockey games. When he was younger, he often played hockey and billiards, and he was a great fan of Québécois chansonniers. In addition, he published two books of poetry that were a great source of pride to him.
Réginald loved northern Ontario and was quite proud of being Franco-Ontarian.
A celebration of the Eucharist will be held on Saturday, March 7 at 10:30 at the Immaculée-Conception church with Father Sébastien Groleau officiating. Spring internment will follow at the Opasatika cemetery. We invite you to make a donation in memory of Réginald to one of three organizations: North East Association for Community Living, the Disability Resource Centre for Independent Living, or Diabetes Canada.

Order Flowers